*sigh*
Jaime Reese has done it again! I fell in love with her writing and her characters in A Better Man. Then I heard this was going to be a series and I was ecstatic and I was going mad waiting for this. But do you know what? It was so worth the long and painful wait. So worth it! I was in heaven reading this book and I really do believe it is just as wonderful as A Better Man.
Where should I start with these guys? Cam, oh poor Cam, he had been through so much and he had lost the one person who ever really loved him. He was betrayed by the only two family members he has left and if that wasn't he just got out of prison after spending ten years inside. He was left broken and afraid to hope from all this. I just wanted to hug him, he was so lovable. Then you have Hunter and I really loved him too. His life wasn't bad but he's married to his job and his love life is nonexistent. He was a really sweet, supportive guy and I loved him for Cam.
One thing I adore about this couple, and the couple from book one, is the fact they make sense. I know a lot of couples do. But I've often found that some couples just don't really work well together and I'm not talking about chemistry. Cam and Hunter and Matt and J make sense to me, they really do. They are great couples and they fit together in a way some romance couples don't. Hunter was a great support for Cam. He never pushed and he was there supporting his boyfriend when needed. Together they were sweet and adorable, almost. I loved their romantic moments and there were a lot of sweet, swoon worthy moments in this. There were a few sex scenes that were really well done and fitted with the couple.
The mystery aspect of this book was wonderful. I did not see everything coming, which was nice, but I also guessed a couple of things, which was also nice. I loved the fact the neither the romance or mystery overshadowed the other. It was a good mix and I loved the fact the two elements of the book were there from beginning to end. I was wrapped up in the things that were happening in this book and I wanted to read more. And this wasn't a short book by any means, it is over 300 pages. But I seriously could have read another 50 pages of this and I think I would have loved that just as much as the rest of this book.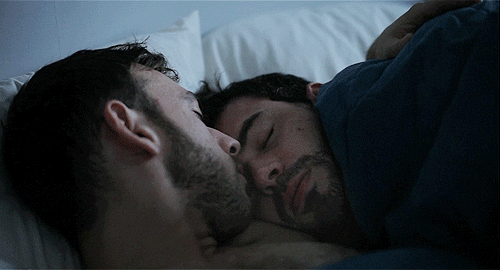 What else can I say? Um... Did I mention how much I loved this book? Yeah? Okay then, I think that's about all I can say so, without spoiling the book anyway and I don't want to do that. But I would highly recommend you go read this book if you enjoyed the first one, and even if you didn't love it as much as I did, I think you should give this one a shot!